What is the trivago Rating Index® (tRI)?
The tRI is a comprehensive and reliable index of hotel ratings. The tRI takes available rating sources from across the web and uses an algorithm to aggregate them, providing a dependable and impartial score.
It's clear. Rating sources are broken down, offering users clarity and understanding.
It's transparent. Links to original hotel or booking sites make it possible to get ratings directly from the source.
It's current. Daily updates ensure the most up-to-date index you can find.
It's fair. Whether a hotel has 20 or 2,000 reviews, our algorithmic approach offers impartial comparison for all.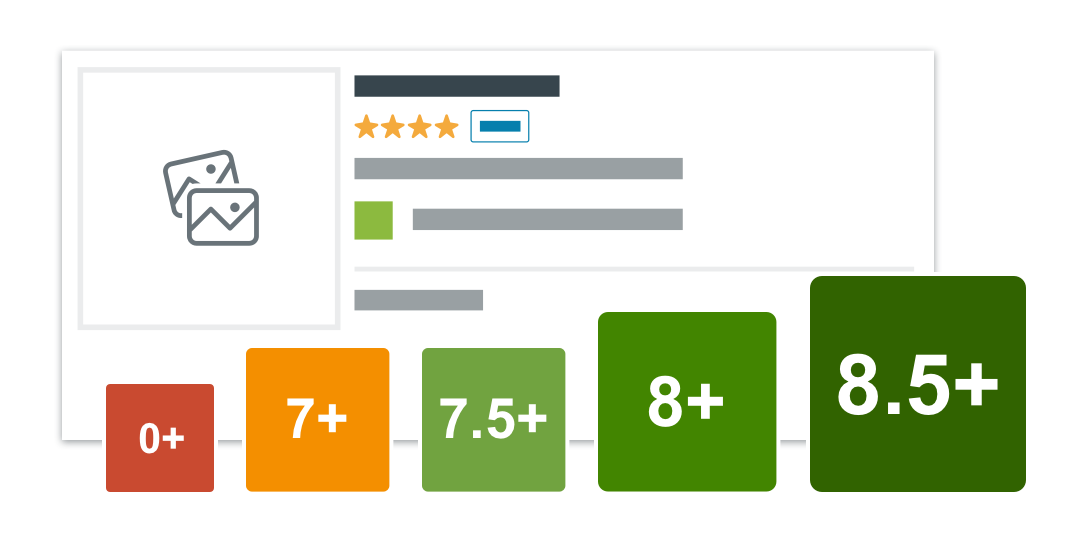 About tRI
The tRI is not merely an average of numerical reviews. It is an index based on a tried-and-true mathematical approach.
A source with a large volume of reviews cannot outweigh other sources with fewer reviews.
The algorithm takes into account situations in which a hotel has only one rating source, in comparison to another hotel with a broad range of rating sources, and adjusts the calculation accordingly.
The tRI is set up to encourage fairness for less-established rating sources. For example, the first review posted on a new source has higher value than a new review posted on a source with many pre-existing reviews.
A hotel must have at least 5 reviews in total in order to be included in the tRI.
All websites' rating scales are converted to trivago's 10-point index score.
The tRI was created to compare all types of accommodation on one level.
The tRI is updated daily for each hotel, ensuring the latest, most accurate evaluations.
Some aggregated sources are shown individually (Expedia, Holidaycheck, Zoover, etc.) and others are anonymously included in the group "other sources", depending on the individual website's preference

Want to increase your ranking in the trivago search results? Find tips and tricks on trivago Business Studio. Register for free today.